RESEARCH: PERSONALITY IN DOGS
RESEARCH ARTICLE: Personality consistency in dogs: a meta-analysis.
Abstract
"Personality, or consistent individual differences in behavior, is well established in studies of dogs. Such consistency implies predictability of behavior, but some recent research suggests that predictability cannot be assumed. In addition, anecdotally, many dog experts believe that 'puppy tests' measuring behavior during the first year of a dog's life are not accurate indicators of subsequent adult behavior. Personality consistency in dogs is an important aspect of human-dog relationships (e.g., when selecting dogs suitable for substance-detection work or placement in a family).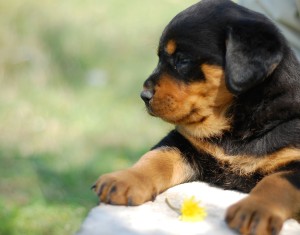 Here we perform the first comprehensive meta-analysis of studies reporting estimates of temporal consistency of dog personality. A thorough literature search identified 31 studies suitable for inclusion in our meta-analysis. Overall, we found evidence to suggest substantial consistency (r = 0.43). Furthermore, personality consistency was higher in older dogs, when behavioral assessment intervals were shorter, and when the measurement tool was exactly the same in both assessments.
In puppies, aggression and submissiveness were the most consistent dimensions, while responsiveness to training, fearfulness, and sociability were the least consistent dimensions. In adult dogs, there were no dimension-based differences in consistency.
There was no difference in personality consistency in dogs tested first as puppies and later as adults (e.g., 'puppy tests') versus dogs tested first as puppies and later again as puppies. Finally, there were no differences in consistency between working versus non-working dogs, between behavioral codings versus behavioral ratings, and between aggregate versus single measures. Implications for theory, practice, and future research are discussed".
Yours In Great Health,
Sar Rooney BHSc., ND., DC., DASc., GDSc. (Hons) Zoology, MHATO, MATMS, MNHAA.
Naturopathic Physician, Medical Herbalist & Dog Naturopath
Science-Based Naturopathy for Canine Wellbeing
Canine naturopathic health care with a clinical focus on skin conditions, inflammatory bowel disorders, chronic infections, arthritis and disease prevention.
Helping dogs achieve optimal wellness with personalised, professional naturopathic health care and individually-prescribed high-quality herbal medicines and supplements 
Naturopathic Animal Services
W:  
www.animalnaturopath.com.au
E:   
[email protected]
FB: 
http://www.facebook.com/DogNaturopath
Appointments are available by email, phone & skype
Want to keep up to date on the latest in dog health? Join me on Facebook: http://www.facebook.com/DogNaturopath
Reference: Fratkin JL, Sinn DL, Patall EA, Gosling SD.PLoS One. 2013;8(1):e54907. doi: 10.1371/journal.pone.0054907. Epub 2013 Jan 23.
Disclaimer: The information provided is not intended to replace any veterinary or medical advice or treatment.