NEW TEST FOR SKIN SENSITIZATION WITHOUT USING ANIMALS
This is fabulous news!
The testing of new cosmetics and other skin-care products may be done with a new test that does not involve animals.
In an effort to reduce the use of animals in testing new cosmetic and other product ingredients for skin allergies, scientists are describing a new, highly accurate non-animal test for these skin-sensitizers.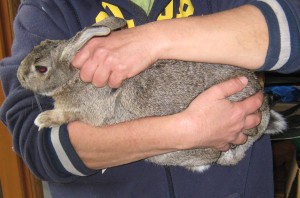 Their study appears in ACS' journal Chemical Research in Toxicology.
Bruno Miguel Neves and colleagues explain that concerns about the ethics and costs of animal-based tests for skin sensitizers, plus regulations in the European Union, are fostering a search for alternative tests. Testing product ingredients prior to marketing is important, because allergic contact dermatitis is the most prevalent form of immunotoxicity in humans.
The scientists describe development of a cell-based alternative test that enlists genes and signaling pathways in mouse skin cells growing in the laboratory. Exposure to skin sensitizers triggers characteristic responses, activating genes and making cells release substances that communicate with adjacent cells. Evaluation of the test on 18 compounds showed that it had a sensitivity of 92 percent in correctly identifying actual sensitizers. It had a specificity of 100 percent and did not produce any false positive results — indicating that a substance caused sensitization when, in fact, it did not. The approach could be "extremely valuable" in revealing the interaction of skin cells with sensitizers, the scientists say.
Animal Naturopath, Sar Rooney's comment: I have lobbied against animal testing for decades and will be extremely glad to see all animal testing outlawed one day – hopefully that day isn't too far away!
Yours In Great Health,
Sar Rooney BHSc., ND., DC., DASc., GDSc. (Hons) Zoology, MHATO, MATMS, MNHAA
Naturopathic Physician, Medical Herbalist & Dog Naturopath
Science-Based Naturopathy for Canine Wellness
Canine naturopathic health care with a clinical focus on skin conditions, inflammatory bowel disorders, chronic infections, arthritis and disease prevention.
Helping dogs achieve optimal wellness with personalised, professional naturopathic health care and individually-prescribed high-quality herbal medicines and supplements 
Naturopathic Animal Services
W:  
www.animalnaturopath.com.au
E:   
[email protected]
FB: 
http://www.facebook.com/DogNaturopath
Appointments are available by email, phone & skype
Want to keep up to date on the latest in dog health? Join me on Facebook: http://www.facebook.com/DogNaturopath
Journal Reference:
Bruno Miguel Neves, Susana Carvalho Rosa, João Demétrio Martins, Ana Silva, Margarida Gonçalo, Maria Celeste Lopes, Maria Teresa Cruz. Development of an in Vitro Dendritic Cell-Based Test for Skin Sensitizer Identification. Chemical Research in Toxicology, 2013; 26 (3): 368 DOI: 10.1021/tx300472d. CITATION: American Chemical Society (2013, March 27). New test for skin sensitization without using animals. ScienceDaily. Retrieved May 27, 2013, from http://www.sciencedaily.com­ /releases/2013/03/130327133705.htm
http://www.sciencedaily.com/releases/2013/03/130327133705.htm. Source: Science Daily /American Chemical Society
Disclaimer: The information provided is not intended to replace any veterinary or medical advice or treatment.